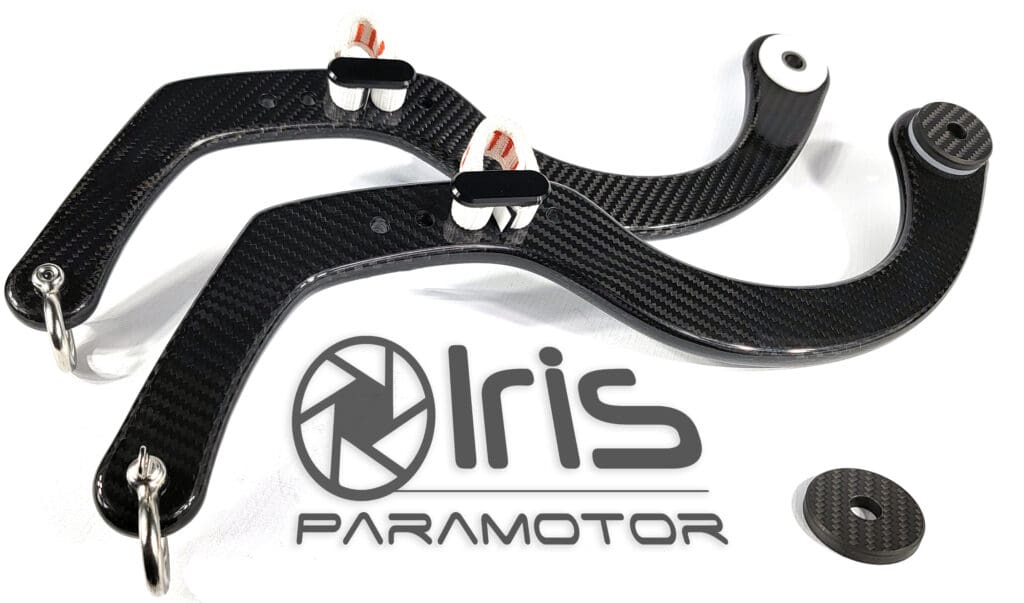 Our new carbon fiber swing arms are almost 30% lighter compared to our metal swing arms. This is a huge achievement. It allows us to shave a pound from our paramotor's final weight putting our machine in a whole different weight class while still being stronger than most swing arms currently on the market. Most importantly they look terrific and are a high-end upgrade to any paramotor.
The complete swing arm assembly including all hardware you see pictured weighs in at less than a kilogram (2 lbs and 2oz to be exact) and yet they can still safely support the highest loads from 99% of pilots.
Why carbon fiber? Isn't it brittle?
These swing arms are manufactured from solid pre-preg T700 carbon which is very expensive but much stronger than the more commonly used T300. It does not experience fatigue from repeated loading like metal swing arms and acts more like a spring to absorb vibrations and shock loads. During our destructive testing we noticed that when the swing arm does fail, the T700 plates specifically delaminate and some layers crush, but they do not snap and continue to hold several hundred pounds of load even after failure. 
Carbon fiber is extremely strong and stiff but does not hold up well in a shock impact. This is a problem for carbon paramotor parts that are very thin and why certain machines from certain brands will disintegrate from impacts. However, this mostly applies to thin carbon fiber parts. Our swing arms are almost 100 layers of solid carbon fiber. When we say solid, we mean they can probably be used in leu of a hammer.
When we started this project, we worked very closely with our carbon fiber manufacturer to develop a mold for the part and went through many design iterations and testing together to achieve our target needs. They even made a custom fixture for loading and testing our parts before sending them our way to make sure everything is in order. We showed no mercy. Many parts were broken which was very sad and painful to watch and it was extremely expensive. The molds were re-machined and adjusted several times. This was our most expensive, stressful and time consuming project. We almost gave up several times but decided to carry on and it has paid off.
What kind of testing have you done on the swing arms?
As always we started with the design stage and ran simulations to get a rough target for our design and molding. The problem is that carbon fiber will change drastically in strength based on how the layers are laid out and what type of weave is used. This was only a very rough starting point. 
After several iterations we achieved a basic break test on the swing arm plates with a 1900 pound MBS. This is the number other competitor manufacturers will throw at you but it is extremely dishonest and misleading to advertise this number. Swing arms are never loaded only in the ideal vertical orientation. The whole system must be tested together which adds twisting forces which will drastically affect this number.
After achieving our desired goal, we tested and improved the individual components to make sure those could support the required loading. We tested the new riser offset blocks as well as the shackles and the rear mounting systems and they all passed with flying colors and zero damage. 
Finally we did testing that takes into account the whole system assembled together. The final result is that we can still achieve almost 10g loading for a 110kg all up weight and 7.8g loading for 140kg all up. To put this into perspective, most paramotor wings that are DGAC certified are only tested to 5.25g's at their max certified loading. 
We plan to perform test loading on every single swing arm before shipping them out to about 75% of their MBS to make sure every single one is consistent and will perform as expected and comes defect free for your safety.