2024 Iris Infinity / Infinity XL
We are very excited to bring you the latest Iris Infinity models for 2024. The bottom of the frame has received a re-design which makes our machines stronger than just about anything in the lightweight class. We achieved this through engineering and optimizing new parts for weight/strength and the whole unit for stiffness. The result is that the new Infinity XL weighs only one pound more than the previous model Infinity but it is fully capable of trike inflations, power forwards, and big tumbles. All the latest updates are fully backward compatible meaning all previous machines have the ability to receive these upgrades without modification.
Our paramotors come loaded with premium features as standard. No other units offer as much value as we pack into our machines.
The new Infinity XL is a big upgrade in performance. It is designed to run a 140cm propeller to extract every bit of thrust out of the engine for a significant boost in climb. It's a perfect fit for tandems, larger pilots, higher altitudes or anyone else seeking to get the best possible performance.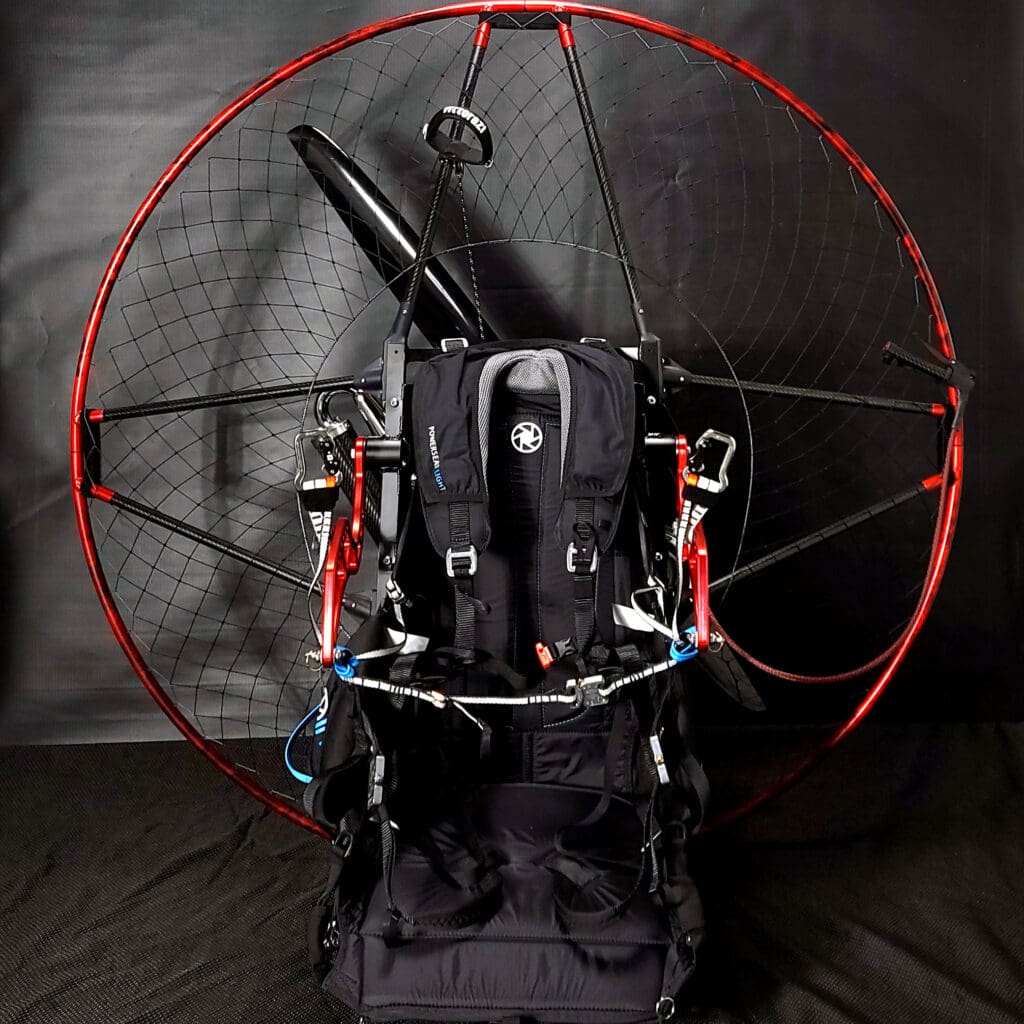 The standard size Infinity supports 130cm propellers and it's a perfect blend of easy flying due to the manageable hoop size and performance. It's perfect for beginners and smaller/shorter pilots, or those pilots who seek to have the lightest possible machine. 
Base
Fully loaded budget paramotor
Standard Metal Swing Arms

Side Pocket + Reserve Container

Mechanical Torque Offsets

12L Fuel Tank (18L Upgrade)

E-Props Propeller Included

AustriAlpin Stainless Carabiners
Standard
Advanced paramotor that's extremely fun
Articulating Metal Swing Arms

Dudek Powerseat Light Harness

Signature Two-Tone Colors

Side Pocket + Reserve Container

Mechanical Torque Offsets

12L Fuel Tank (18L Upgrade)

E-Props Propeller Included

AustriAlpin Stainless Carabiners
Sport
#notorque and no better value
Articulating Metal or Carbon Arms

Dudek Powerseat Light Harness

Signature Two-Tone Colors

Mechanical Offsets and Active Fins

Side Pocket + Reserve Container

12L Fuel Tank (18L Upgrade)

E-Props Propeller Included

AustriAlpin Stainless Carabiners
Additional Sub-Model Info
The Base model is a fully loaded beginner-friendly paramotor. It comes with a Dudek Powerseat harness and non-articulating metal swing arms, so it works like any other paramotor. You still get a big boost in weight shift since our swing arms sit slightly wider apart than other machines. This is a basic paramotor similar to other basic, easy-to-use machines (Parajet Maverick, Air Conception). You get the additional benefit of a reclined and curved frame geometry for in-flight and ground handling comfort and an ideal thrust line.
To make it more budget-friendly, all small parts are powder-coated matte black and the swing arms, legs, and hoop come coated in solid colors (instead of our signature two-tone) which eliminates a two-stage coating process. Don't worry, the solid colors are absolutely stunning. Please note that it is also possible to get solid colors on Standard and Sport models.
The Standard model features our exceptional "Freestyle Suspension System". The swing arms behave like normal swing arms during take-off and landing as well as "low and slow" flying allowing us to take advantage of mechanical torque compensation, however, they are allowed to articulate (progressively) in all directions making our paramotors extremely playful and fun, especially for Freestyle, Thermals and Acro flying.
This machine does it all. It's perfect for beginners who want to have a machine that will keep opening new doors through their progression. It's also perfect for highly experienced pilots who put paramotors to the limit of possibility. The Standard comes with premium features such as the Dudek Powerseat Light harness and our signature two-tone powder coat process.
The Sport model is an absolute treat. The machine flies perfectly because it features a combination of mechanical torque compensation plus active torque compensation fins on the spars. Nothing feels quite as good as a well-balanced machine.
It's our most labor-intensive model because all small parts (carabiner offsets, harness brackets, support braces, engine plates) come brightly color-matched to the rest of the machine requiring a multi-stage coating process but it's well worth it. You also have a choice of metal swing arms or our awesome solid Carbon Fiber swing arms. The carbon arms are super comfortable with soft rounded edges and they do not get cold in flight. More importantly, they shave a full pound of weight from the machine.
Standard / Sport Two-Tone Colors
note: Full color accents are only available on the Sport model.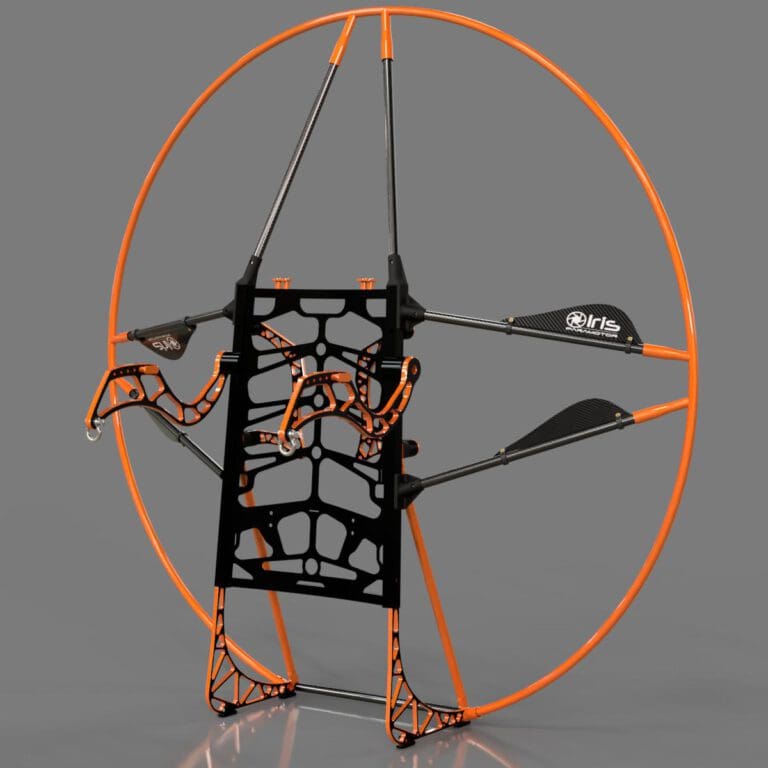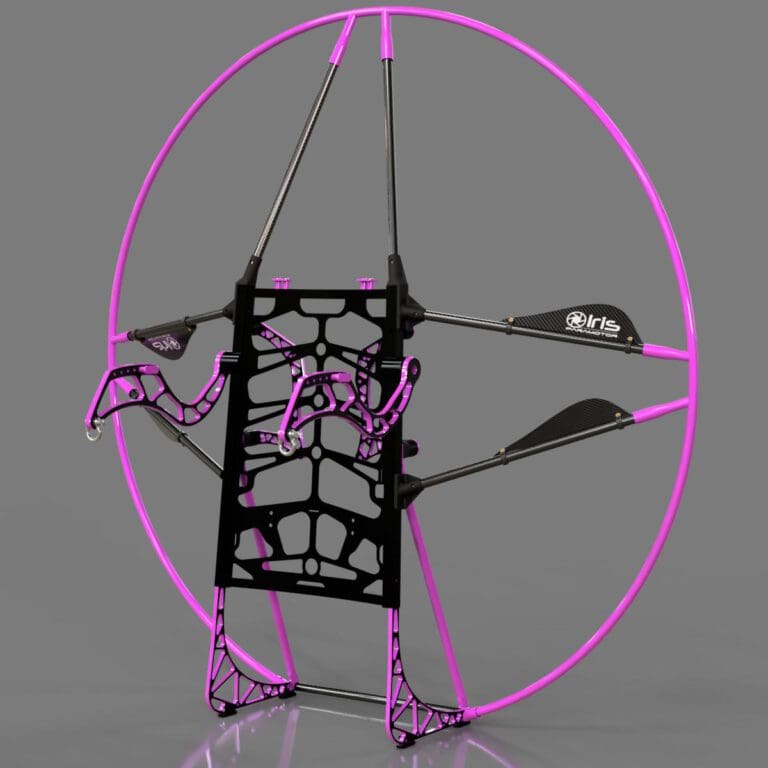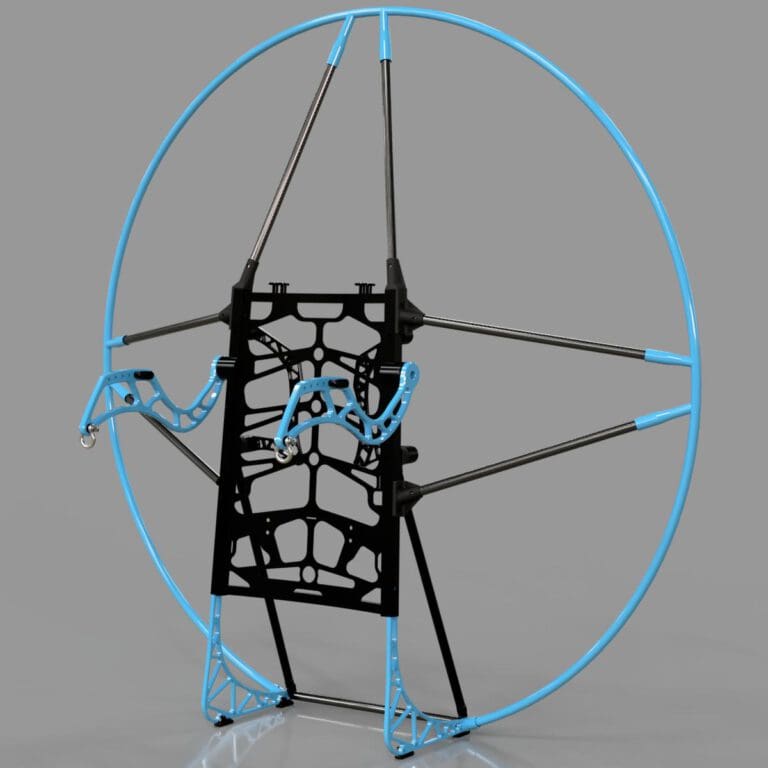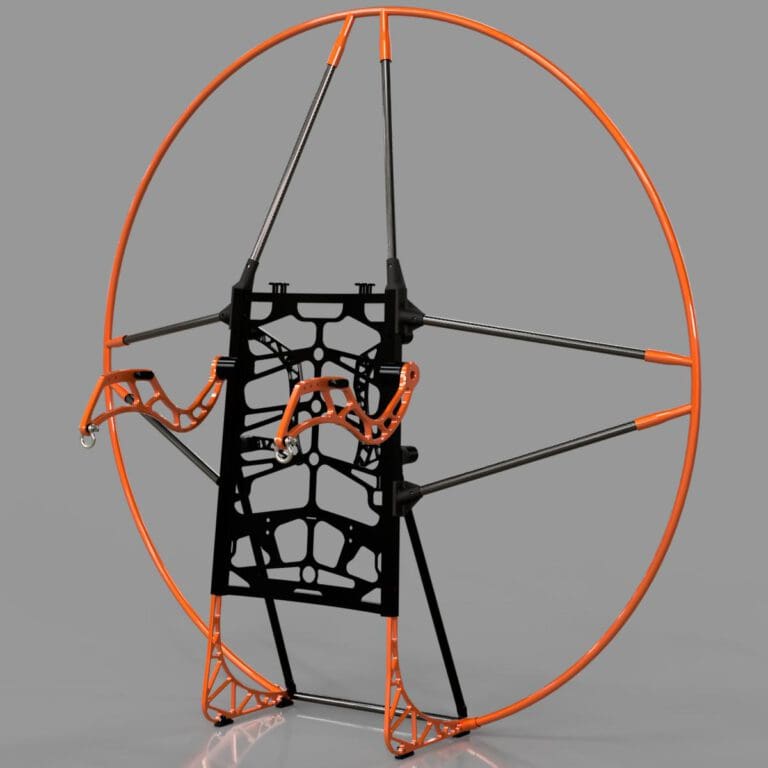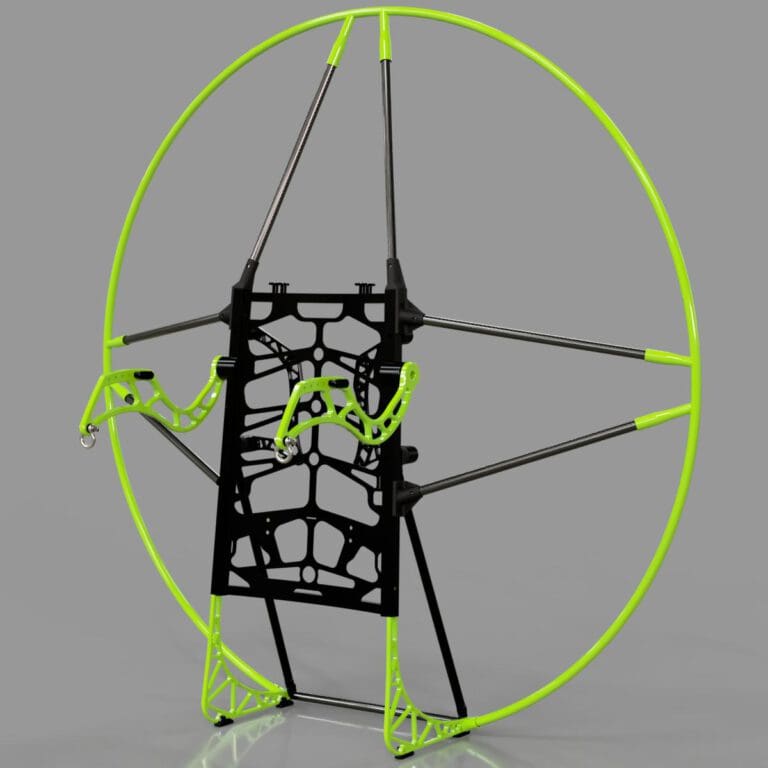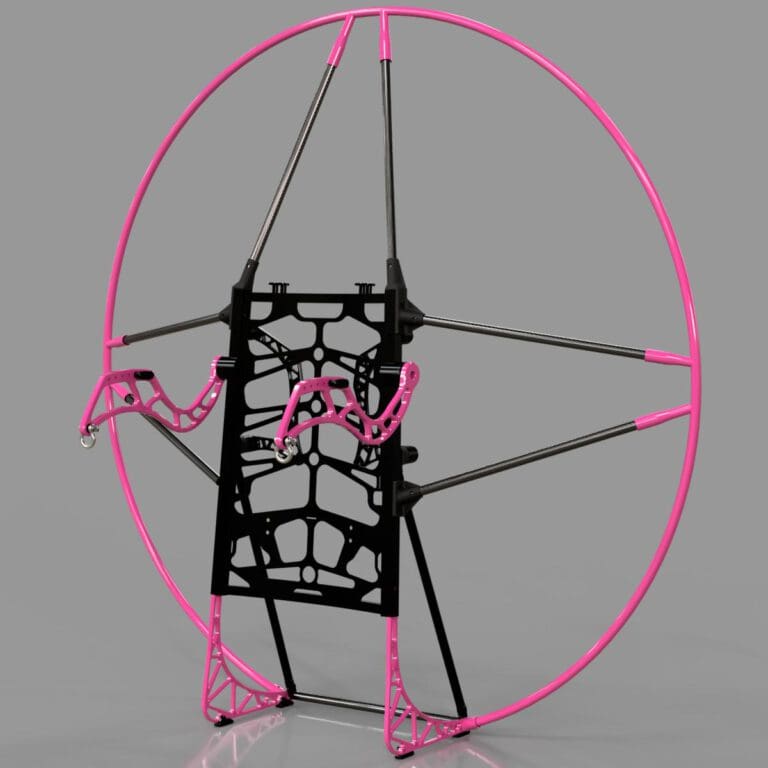 The Infinity is the only paramotor that comes with such an extreme core geometry. It's incredibly difficult to design and manufacture but it's a worthwhile effort to achieve the best flying experience and highest level of safety for the pilot. Our frames have the following features:
Full back protection plate to protect your spine
Real reclined sitting position to allow for comfort in flight and optimal thrust angle
More width between swing arms for increased weight shift and for larger pilots
Dampened Articulating Swing Arms for the most enjoyable and playful flying experience
 Strong welded core frame with modular legs 
Our metal swing arms are engineered and tested for the most extreme loads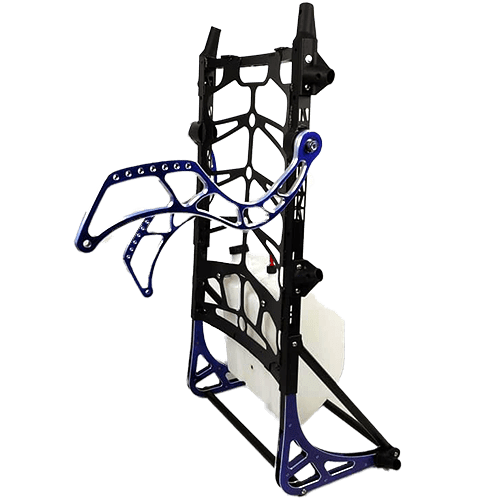 Powered by Vittorazi Engines
It's no surprise that Vittorazi engines are the most popular engines in the world. They are lightweight, simple, and reliable and offer the highest level of support and parts availability all over the world. Westcoast Paramotors (our sister company) has partnered up with Vittorazi for this very reason. We want to offer the best engines on all of our paramotors and offer the highest level of support and service here in the USA. All of our paramotors come with direct local support for all your Vittorazi needs and all Vittorazi engines come with a 2-year warranty!
Atom 80 – the smallest and lightest engine with an impressive amount of power and efficiency. This engine is recommended for lighter pilots and students (but is a very capable powerplant on our XL frame for most pilots)
Moster 185 Plus – the most popular paramotor engine on the market. It offers plenty of power for almost all pilots (and tandems) 
Factory R – the highest level of foot launch performance with high-end materials and workmanship.