Let's face it: speed bars suck.
There, we said it. Most of them are a half-assed afterthought from wing manufacturers. They are designed to be as cheap as possible, easy to manufacture and consist of the bare minimum: just enough to accomplish a task but not quite enough to do it particularly well. Even the best speed bars are a pain to adjust. They are hard to catch with your foot in flight. They fall to the ground when you forget to stow them and wrap around your ankles so you can look like a complete idiot at the next fly-in. And those f**king clips, man… the brummel hooks are a pain to hook up and always come undone, sometimes to get lost in your harness only to be clipped back in incorrectly as they wrap around the strap they fell behind. Other times they can fly through your prop. Every once in a while they just fly behind you dangling on your speed bar line like some sort of demented streamer and they look back at you like "Really dude? Again?". Come to think of it, there is nothing worse than finding out that half of your speed bar is unclipped while suddenly flying backwards over trees during a ridge soaring session or to realize that you are in a strong thermal but you had forgotten to clip your speed bar in before launching into it but now you're too afraid to let go of the brakes lines (DOH!).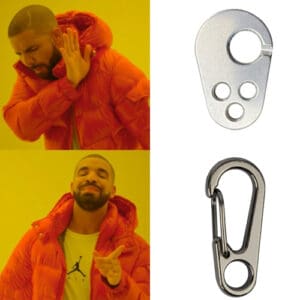 We want to change that. All of that.
The speed bar is one of the most important tools for Paramotor and Paraglider pilots alike. We believe this tool needed to be given the attention that it deserves and that's exactly what we set out to accomplish. At first glance you might think that you are looking at just another speed bar but if you look closer you will start to realize that there is some curious stuff going on that you won't see on other speed bars.
Our speed bars are easily, quickly and intuitively adjustable in flight, We were able to come up with a clever solution that doesn't require any moving parts or complex mechanisms that are prone to break and wear out. What a relief! You never have to do a bunch of test flights to make sure your speed bar is tuned correctly or worse, just accept that you are a failure and live with the poor adjustment that you made "that one time" long ago that's **almost** good enough but not quite. Also, you can switch from one wing to another and quickly adjust the speed bar to use the full range for that specific wing and then just go to the previous setting just as easily.
Our speed bars are easy to find in flight. They feature extra shock cords on both sides which keep our speed bar hovering in exactly the right position, exactly where you would expect it, always patiently waiting for your foot to snag it exactly when you need it. The shock cords are fully adjustable and the strap on the speed bar has a plastic stiffener so it always holds its shape and sticks forward making it easy to grab.
Our speed bars don't fall to the ground when you land having forgotten to stow them. The same shock cords keep them at your knee height while on the ground so you can still move around and do touch and go's without having to stow the speed bar.
Our speed bars don't need to be clipped in to the wing before launching. They are safely clipped to the shoulder straps (or anywhere else on your harness) and can easily be clipped to the wing in flight in seconds.
Speaking of clips, our speed bars don't use "those" clips. We use quick release clips that cannot come off in flight (or on the ground) unless you want them to.
Our speed bars are made from high quality materials by skilled workers in the USA. We use real Carbon Fiber, Amsteel Blue, BlueWater tubular webbing, marine grade shock cord.
Our speed bars are made using slow and high quality production methods. Our Dyneema is spliced, not just tied. Our straps are ultrasonic welded using expensive equipment